WILL celebrates its first year of making a difference in the Isle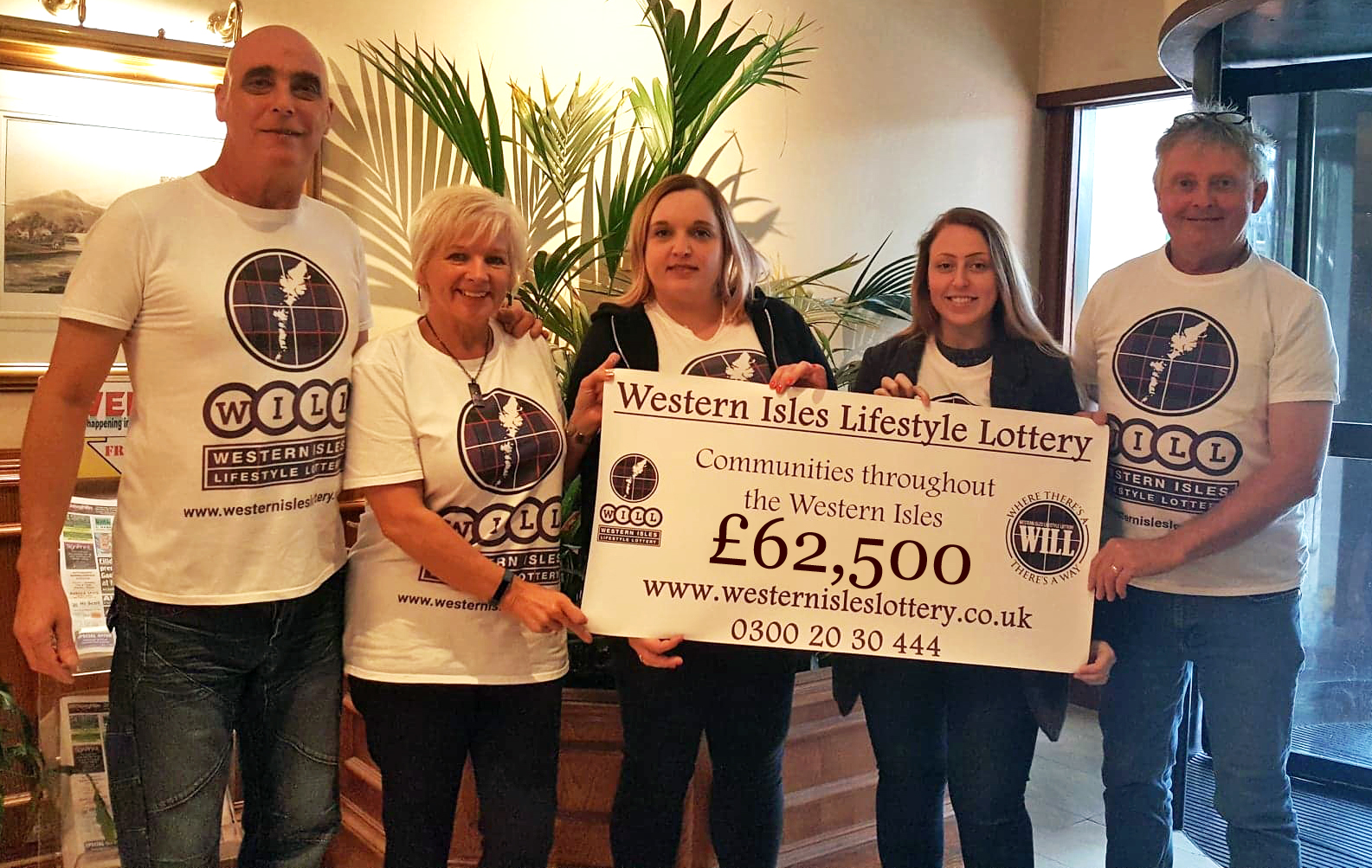 It's been an incredible 1st year for the Western Isles Lifestyle Lottery (WILL) with £45,000 being raised for community projects from the Butt to Barra and more than £17,000 being distributed to lucky prize winners.
From flower displays to playparks; to funding for youth groups and local events, WILL has certainly made its mark on communities up and down the islands and shows just what can be achieved – 'where there's a WILL there's a way'.
The idea for the local Lottery came from Stornoway residents Malcolm and Janet Paterson who were on holiday in Tenerife when they purchased a ticket for the local lottery and became intrigued with the idea of setting up a Lottery to solely benefit the Western Isles. When they returned home they did just that with the help of Tony Robson and Emma Fraser and a recent addition to the team Shona MacLeod.
Janet Paterson said: "The Western Isles Lifestyle Lottery, the logo being "Where There's A WILL, There's a Way", was born out of the recognition that, like many other places in Britain, there was a cash injection required to upgrade and improve, not only the presentation of the Islands for the increasing tourist trade, but also the year round lifestyle for, approximately, 28,000 Island residents. "The Lottery was designed so the people of the Western Isles, collectively and inclusively of all cultures, could help ourselves and at the same time be the front runners in being pro-active within our own community."
CELEBRATION EVENT
To mark the success of the first year, the Lottery Team are hosting a weekend of Fun for everyone starting on Friday 24th August with an Adult Disney Themed Ball in the Caberfeidh Hotel, Stornoway. Alzheimers Western Isles are organising this Event and all profits will go to their own cause. On Saturday 25th August, a Disney Themed Fun Day is being held in various venues around Stornoway. A number of organisations and businesses have all partnered with the Lottery Team to provide events being held throughout the day. This includes a Walking Parade which leaves Bayhead Park at 12.30pm.
PROJECTS SO FAR:
Broadbay - Area 1
Proceeds are managed by Stornoway Amenity Trust. The Town Centre received a much improved display of Festive decorations at Christmas. Planning then commenced to upgrade the Town to a similar standard throughout the Summer. The Lottery Team themselves have replaced broken and disused seating at Coll Beach and Bayble Pier with cost effective bench and table sets for the benefit of both locals and visitors. This is an ongoing project and as many areas as possible will receive these brightly coloured sets over time as volunteers build more. In addition, the Team were able to purchase a large quantify of Lego, enabling the trial set up of a Local Library Lego Club which, may expand across the Western Isles.
Ness/Westside - Area 2
The Westside Football & Recreation Association manages the funds across this area. Eoropie Play Park Committee received £1,600 towards their project for toilets at the well used park. Carloway Community Association received £1347 for a commercial Gas BBQ with Housing Unit. Currently, Westside Agricultural Society are receiving funding.
Uig/Breasclete/Lochs - Area 3
Muaitheabhal & Friends manage the funds in Area 3. Uig Community Centre were the first recipients and secured £1,206 to purchase play equipment to cater for the 2-6 yr old age group. Two local Dads were trained Sports Coaches but no funds were available to set up Coaching Clubs. North Lochs Community Association set up a Youth run Cafe for senior citizens in the Community Centre with £760.80 funding. The recent completion of new Keose/Keose Glebe Playpark now provides the public with a new facility. Proceeds from supporters across the Area will be made to enable the necessary additions of a public seating area, and refuse bins etc to be installed.
Isle of Harris – Area 6
Harris Voluntary Action manages the funds for Harris. Funding for Christmas Lights which had been lost in a fire, destroying the storage building. Funding for the installation of Hearing Loop Systems in four of the Community Halls across Harris To date, a total of £2,384 has been raised from proceeds. The Lottery Team have also provided two bench and table sets for the public's use with more being built which will be distributed over time.
Isle of Uist – Area 5
Uist Council of Volunteering Organisations (UCVO) manages the Uist funding totalling to date a handsome £4,309. Balivanich Playpark received a total of £1,362 to end December 2017. This sum went towards the significant repairs required to bring the popular playpark back to a useable standard. Sgoil Lionacleit Pipe Band - £1,306.80 was raised to buy protective Bagpipe cases for the youngsters and to host a Homecoming Event for the residents of Uist to enjoy. Currently, Tasga Uibhist are receiving proceeds from the area to fund their Cuimnhe Project to ensure the continuation of 3 specific ongoing social events for their Dementia Group.
Isle of Barra – Area 6
Barra & Vatersay Community Ltd are the managers in their Area which has so far benefitted from £4,269 of funding. Again, Christmas Lighting was their first priority. The area was in need of a Personal Announcement System for local events. The equipment has already enhanced local events such as the recent Half Marathon. Currently, proceeds are to be used to replace the Herring Girl Trail along the coastline.
HOW CAN YOU JOIN THE WESTERN ISLES LIFESTYLE LOTTERY?
Anybody with a UK Postcode can JOIN IN, WIN Weekly Prizes and SUPPORT the Western Isles! Most Supporters have joined via the Western Isles Lottery website www.westernisleslottery.co.uk with Direct Debit payments. Should you not have access to the internet, a dedicated phone line is open during office hours (Mon to Fri) and can be reached on 0300 30 20 444
How can you apply for funding?
Interested parties can either apply directly to their own local funding managing group OR apply by email via the Western Isles Lottery website. Alternatively, you can message the Western Isles Lottery Facebook page.
Funds raised this year
£94,036.80
3288 tickets of our 4000 ticket goal