Tattoo Metagama summer extravaganza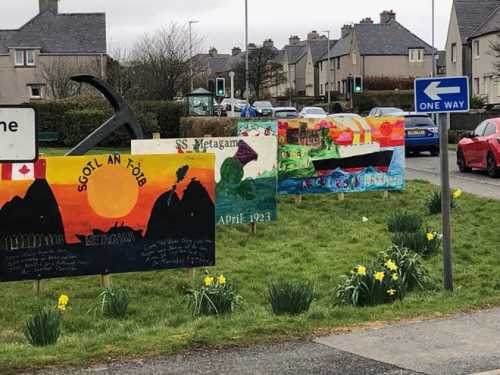 An extravaganza of both local and international performers will entertain crowds during Tattoo Metagama week in August this year.
This being organised by the Western Isles Community Society, the same team who run the local Western Isles Lottery.
A variety of display boards marking the centenary of the emigration have been prepared by schools across the islands.
The fun for everyone starts on Tuesday 8 August when the Fairground, Continental Market and Craft Fairs open in Stornoway town centre.
FRIDAY 11 AUGUST will see a Grand Concert take place in Lewis Sports Centre at 7.30pm at which many acts will perform, including the 78th Fraser Highland Pipe Band from Ontario, Canada; and Alyth McCormack & her Irish Band.
SATURDAY 12 AUGUST starts with a Mass Pipe Band Display leading a spectacular Parade through Stornoway Town centre with all performers – at 2pm.
Lews Castle Green opens to the public at 3pm. Numerous activities, included in the ticket price, are fun fair rides, inflatables, marquees hosting Country & Western/Line Dancing, Children's Folk Singing/Highland Dancing and a Ceilidh/Strip the Willow alongside a variety of food and drink outlets, to entertain the crowds before the main Tattoo Metagama Event starts at 7pm.
Performances at the main event are varied with pipe bands from across the Western Isles, along with the Isle of Skye and Strathaven & District Pipe Bands. Additional acts are travelling from throughout the UK.
Organisers say you can expect to be mesmerised by Danny the Fire Performer, a world class act from Somerset, England who will have his own stage. Also billed are the Ragtime Dolls from Glasgow, a 1920s-1940s inspired, Female Close Harmony Trio with choreographed dance routines.
They are joined by Yee's Hung Ga Kung Fu Academy in their spectacular costumes, who have been recognised as being champions in Lion Dance.
Alyth McCormack, with her Irish Band, makes an exciting home return to Lewis. Alyth is a singer, songwriter, actor and filmmaker, known for her pure voice and diversity.
Sambayabamba is a Glasgwegian musical melting pot that has raised the roof around Scotland, the UK and across Europe. They are an exuberant outfit with a heavy-weight live act.
Local artists, a massed choir, dancers and fireworks will complete the line up!
Tony Robson, Lead Organiser said: "We are preparing for an exciting International Event involving the whole of the Outer Hebrides, from the west shore of Vatersay to the Butt of Lewis. It culminates with Tattoo Metagama on the Lews Castle Green on Saturday 12 August. Everybody is invited to enjoy this historic event."
The Team have chosen to support Stornoway RNLI through donations received at the checkout point of ticket sales.
To join the Western Isles Lottery and help continue the improvement works across the entire Western Isles, you can log on to www.westernisleslottery.co.uk To date, more than £400,000 has been distributed to over 100 projects.
Tickets are available from https://www.citizenticket.com/events/the-western-isles-community-society-local-lottery-team/metagama-tattoo-and-concert/
Funds raised this year
£96,553.60
3376 tickets of our 4000 ticket goal