WIN A Luxury 3 Night Break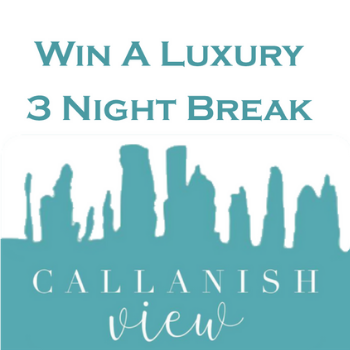 Do you want to relax, unwind and enjoy stunning views of the beautiful hills of Harris, Uig, Bernera and the world-famous Callanish Standing Stones? How about taking in the splendors from the on-site hot tub?
Play the Western Isles Lifestyle Lottery for your chance to WIN a luxury 3-night break on the Isle of Lewis at "Callanish View", a newly built, two-bedroom self-catering cottage for up to 4 guests.
With Callanish Standing Stones located within a mile of the house, "Callanish View" is situated in the perfect location to enable guests to go and explore the beautiful beaches, historical sites and wonderful places of interest that Lewis and Harris has to offer.
The Western Isles Lifestyle Lottery has been raising vital funds to support community initiatives on the islands for almost 5 years. Every lottery ticket purchase makes a huge difference
Anybody in the UK can sign up to support us for as little as £4.34 a month (£1 a ticket, a week), gaining entry into the weekly lottery draw where there are guaranteed cash prizes up for grabs every week!
Support the Western Isles by playing today! More tickets equal higher chances of winning a prize PLUS more funds raised for the local community! WIN-WIN!
❤ Where There's A WILL There's A Way ❤
Funds raised this year
£96,553.60
3376 tickets of our 4000 ticket goal