£2000 boost to music venture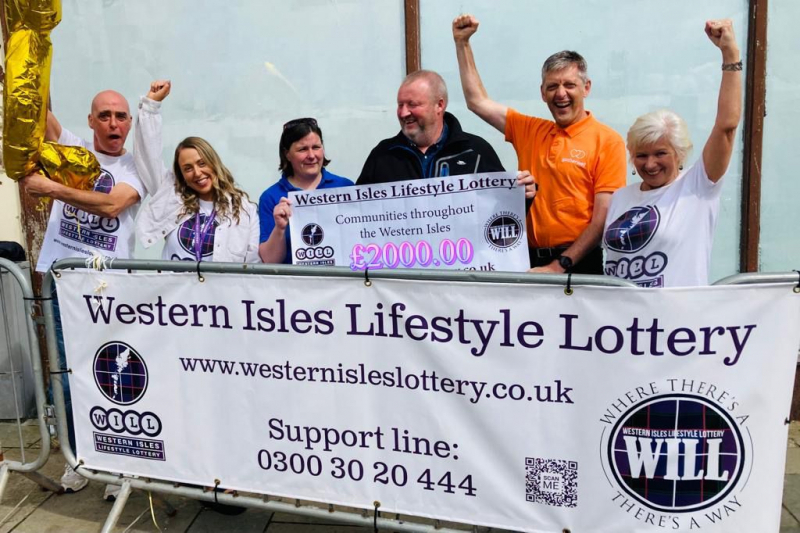 A total of £2,000 went to the young musicians of Taigh Dhonnchaidh (Duncan's House) in Habost, Ness for the purchase of a new performing stage, the Western Isles Lottery have announced.
The funds were raised by supporters of the lottery across the Ness/Westside area.
Taigh Dhonnchaidh, named after the music teacher and performer, the late Duncan 'Major' Morison and managed by Mary Duff, is a successful music learning venue for young aspiring musicians. Teaching classes are run in the evenings throughout term time with a week-long Fèis being held every Easter.
Around 40 – 50 children attend the facility but, until now, have performed on the floor, making it difficult for those in the audience to view. The new stage gives them a platform they deserve and addresses this issue.
The 4m x 3m stage is portable and can also be used by organisations throughout the area. Its debut public appearance saw Highland dancers taking to the stage in the middle of the pitch at the Ness Gala Day. In future, it is hoped that a "travelling" tent can be erected throughout the summer months to accommodate musical performances and events.
Mary Duff said: "Taigh Dhonnchaidh were very grateful to receive this funding to help buy the new stage. The stage will ensure we have a bespoke performance space that we can use at different venues, making the experience better for performers and the audience alike. Thank you to Western Isles Lottery yet again who previously funded new musical instruments for the youngsters".
Janet Paterson of the Western Isles Lottery said "it is our pleasure to fund such a worthwhile facility to enhance its progress. Mary Duff does a remarkable job year on year of ensuring all these young folk are given the opportunity to showcase their musical abilities.
"We must also thank John "Corrags" Macleod for continuing to manage the Lottery in the Ness/Westside area and for his dedication in ensuring funds are distributed to those that most need them".
You can read the full article here: FULL ARTICLE
SUPPORT YOUR LOCAL AREA AND LOTTERY TODAY. BUY TICKETS HERE: BUY TICKETS
Funds raised this year
£96,553.60
3376 tickets of our 4000 ticket goal