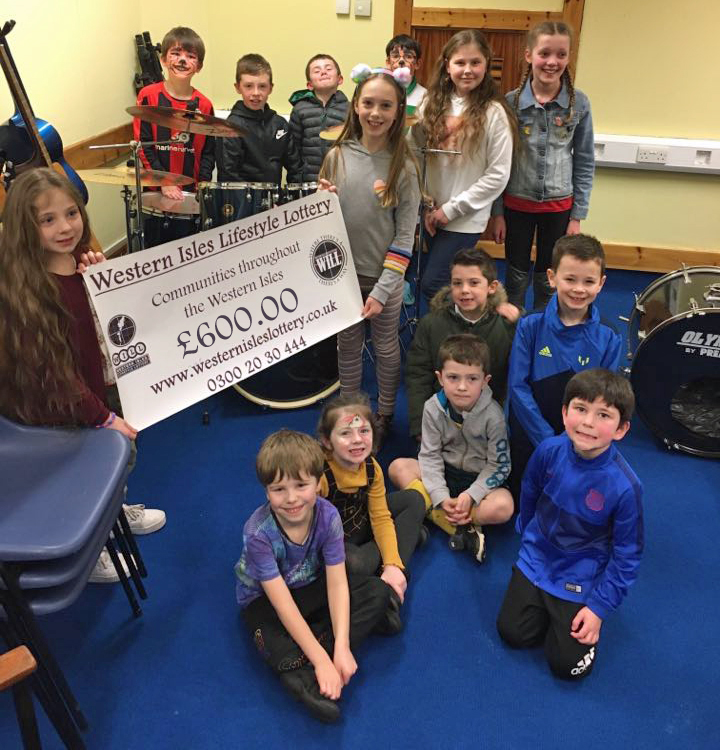 A recent application for funding to Western Isles Lottery secured a new piece of kit for the youngsters of Feis Barra who are pictured receiving £600 from the Lottery for the purchase of a drum kit. The funds were raised entirely by local Supporters from the Barra area.
Janet Paterson, Founder of the Lottery said "support of the Lottery continues in every area of the Western Isles and we are delighted to be able to re-distribute funding back to each local community every month.
"To date, the amazing total of £212,833.41 has been raised including £145,593.82 for distribution back into Communities across the Western Isles and £67,239.59 having been
shared out in weekly cash prizes.
Barra and Vatersay have benefitted from almost £13,000, most of which has already been distributed. In addition, Barra Supporters have won a total of £4,707.51
Due to its continued growth, Supporters now share a £600 weekly Prize pot and we are now able to ensure that at least one Supporter wins £1,000 each month".
The Lottery is currently supporting the Arts initiative on the Island for school children who can win Gift Vouchers for local shops at this difficult time.
You can join in by clicking the 'Buy tickets' button at the top of this page.
The Western Isles Lottery Team sends their very best wishes to everyone on the Island with the message of "Stay Indoors – Stay Safe"!
Funds raised this year
£90,233.00
3155 tickets of our 4000 ticket goal