Shackleton Memorial installed with Western Isles Lottery funding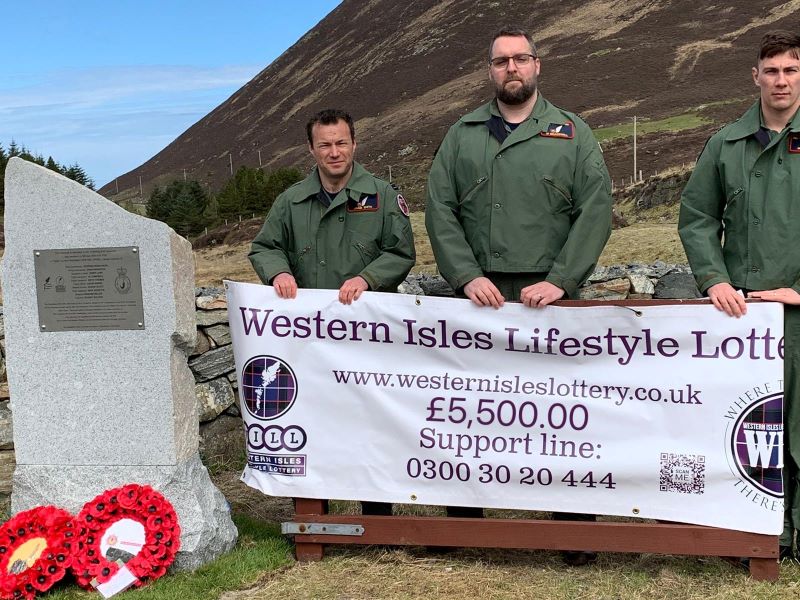 The weather was kind when a Memorial service recognizing the 33rd anniversary of the
Shackleton plane crash atop Maodal, Isle of Harris, recently took place.

An impressive granite plinth was commissioned using £5,500 of the Western Isles Lifestyle
Lottery funds, generated by the sales of lottery tickets within the Harris & Scalpay area.

The idea behind the ground level memorial sprang from the recognition that as each year
passes, fewer of the community who were connected to the original event—servicemen,
emergency responders and residents—were able to make the steep pilgrimage to the hilltop
memorial. A ground level plaque would allow people to commemorate the lives lost and would
also help highlight the story and the crash site itself.

Fyfe Rock in Elgin provided the granite piece, DR MacLeod Hauliers provided transportation and
Martin Memorials erected it. Harris Voluntary Services manage the Western Isles Lottery funds
in the Harris area and worked hard with the Lottery Team to ensure the installation successfully
made it to Harris in time for the service.

The families of the victims had been invited to attend the event although, sadly, none were able
to attend due to a lack of dog-friendly accommodation and fear of ongoing ferry issues.
However the RAF 8 Squadron pulled out the stops to send three representatives by land and sea
to attend the ceremony. Local church representatives carried out on-the-day co-ordination with
very special thanks to Rev. Ian Murdo, Church of Scotland Tarbert, for overseeing the
proceedings. Representatives from His Majesty's Coastguard, RAF Association Stornoway, The
Lord Lieutenants office, as well as a myriad of local residents and those who responded to and
remember the day of the crash attended, notably Dr. Naylor and Bill Lawson. Jacqueline Jackson
attended to represent the Western Isles Lottery. It is hoped that the monument will act as an
ongoing tribute to the loss of life on April 30th 1990 and will also catalyse further related
tributes, for instance, a waymarked path to the hilltop memorial.

Thanks also to our MSP Alasdair Allan for having the tragedy recognised and supported as a
motion in Parliament.

Main pic L to R - Chris Morrison, Kenny Mackay, Donald Macrae, Jacqueline Jackson WI Lottery,
Katie A Mackinnon Deputy Lord Lieutenant, Donald A Mackenzie and Angus Macleod
Funds raised this year
£96,553.60
3376 tickets of our 4000 ticket goal