Fun and good company for lights switch-on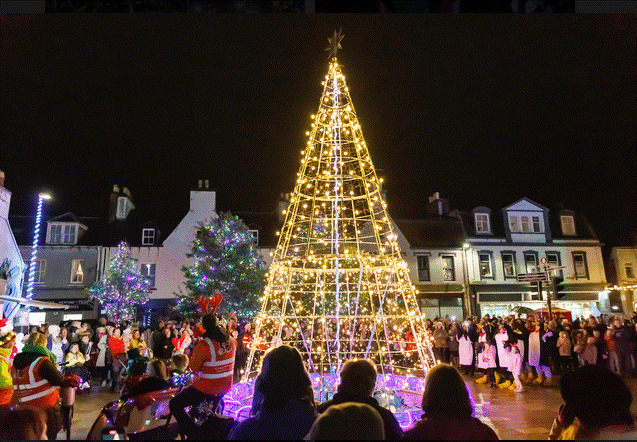 An evening of music, lights and good company brought Stornoway town centre to sparkling life for the first live Christmas lights switch-on since 2019 yesterday (Tuesday 29 November).
Dancers, window displays and shops open late added to the impact of some big personalities – including Santa, switch-on operator Tim Durbin and a flock of volunteer penguins helping the evening along.
The afternoon built up the excitement, with a funfair, stalls and entertainment in Stornoway Town Hall, including dancers from Clare Whyman's Jingle Girls, Lynn MacLean's and Claire Wilson's dance groups.
As the parade set off from An Lanntair, members of Lewis and Harris Youth Pipe Band set the pace and Santa was pedalled to the switch-on in a trishaw provided by Cycling Without Age Scotland – the group awarded the George Newhall Shield for their contribution to the community over the year.
Hundreds gathered in Perceval Square for the switch-on, orchestrated by Western Isles Lottery, who also presented the awards.
The Nellie Macaskill Shield for individual community achievement was awarded to biker Louis Morrison, a stalwart organiser of charity events and ride-outs.
Louis said he felt 'very privileged and very humble' to receive the award, which the lottery team said was 'very well-earned over a long period of time.'
The whole evening was described as 'amazing', 'brilliant' and 'funny' by those who attended. Western Isles Lottery's Janet Paterson said: "Well, what can we say! What a fantastic success!
"Although the Western Isles Lottery Team spend months preparing for this annual event, it would not be possible without the help of so many local businesses and voluntary organisations.
"Special thanks to Innes Campbell and his team at AC Electrical Services for all their days of hard work and Gordon and his team at MacMillan Engineering who constructed the 28ft stainless steel tree.
"However, if the public did not support the Western Isles Lottery by loyally buying tickets, there would be no festivities - so they are the ones who deserve the most credit!
"Our community is simply amazing when we all pull together and we're so pleased everyone enjoyed the activities. Even the weather was good to us."
READ THE FULL ARTICLE HERE: https://www.welovestornoway.com/index.php/articles-auto-3/26646-christmas-lights-switch-on-2
Funds raised this year
£96,553.60
3376 tickets of our 4000 ticket goal