WESTERN ISLES LOTTERY CONTINUES PARTNERSHIP WITH POPPY SCOTLAND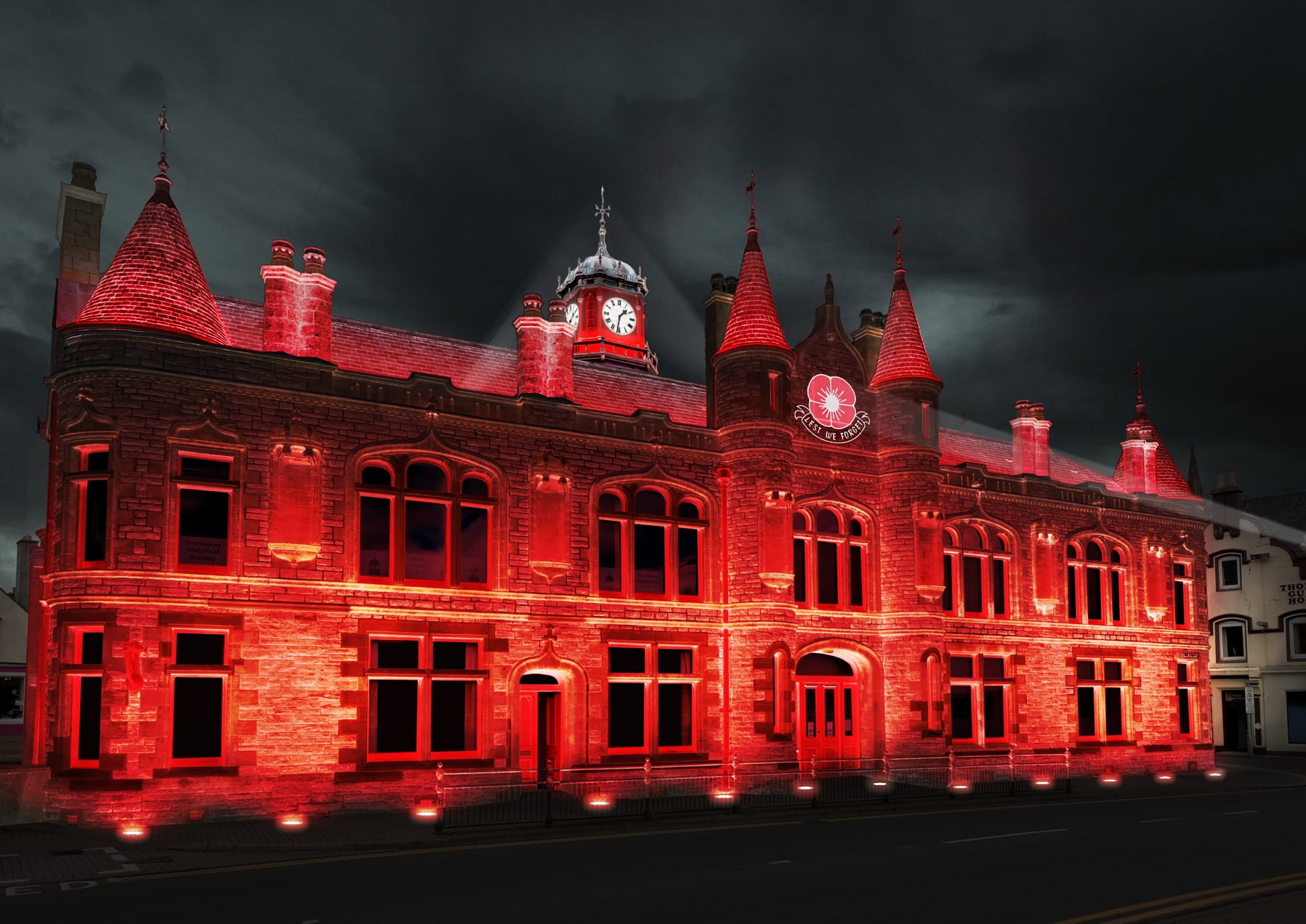 The Western Isles Lottery are delighted to announce that Stornoway Town Hall will again be joining Poppy Scotland's Poppy Appeal during Armistice Day and Remembrance Weekend Friday 11th November – Sunday 13th November 22.
Each year the Light Up Red campaign raises awareness of the Scottish Poppy Appeal and this year the campaign hopes to again mitigate some of its funding losses as a result of the pandemic. To do that, more buildings across Scotland need lit up more than ever before and Stornoway Town Hall was added to the UK map in 2021.
Clare Shaw of Poppy Scotland said "Light Up Red has become a key part of the annual Appeal, with more than 300 landmarks taking part in 2021, from theatres and cathedrals to bridges and lighthouses, as well as public buildings and private homes.
We've had castles, cathedrals, museums, bridges, racecourses, schools, churches, lighthouses, fountains, ships… and even a phone box".
It gives a huge boost to our work to raise awareness of the Scottish Poppy Appeal across the country, and we know from our Armed Forces community that it means a lot to them to see such a visible show of support.
You can find out more information about this year's campaign on the link below, where you can also see locations that took part last year, including Stornoway:
Light Up Red | Scottish Poppy Appeal | Poppyscotland
Lighting up can also provide a message of hope and togetherness - something we need now, more than ever.
Janet Paterson said, "following the successful installation of multi-coloured illuminations on the South face of Stornoway Town Hall in December 2019, we are proud that our beautiful building has joined the Poppy Scotland map by lighting up red, covering Remembrance Weekend and Armistice Day
Fri 11th – Sun 13th Nov" 2022.
Funds raised this year
£96,553.60
3376 tickets of our 4000 ticket goal